Moments to memories. Clueless to confident.

Get lost in the memory of the moment, not in your camera settings.

---
Does this sound familiar?
Me: Ohhhh, that's cute! Where's my camera?!

Then: Okay, my aperture is… my shutter speed should be… higher? Lower? Where's the light?
*switches to auto*
Me: Hey, honey, can you do that again?
*facepalm*
---
TRUST ME, FRIEND. I've been there.
My photography journey began as being "that girl with the camera." I started out taking pictures of farm sunsets and wedding showers, and eventually turned that passion into a wedding photography business.
From side-hustling during grad school and my first speech-language pathology job to going full-time with my business in 2016, I've tried EVERY kind of photography education and research. It always left me feeling frustrated and wishing there was an all-inclusive tutorial that ACTUALLY helped me TAKE BETTER PICTURES already.
Really, all I wanted was for my images to match my memories of them. Is that too much to ask?!
This is the course I wish I had, for all of you who are so tired of being frustrated and setting your camera on the shelf till it collects an EMBARRASSING amount of dust.
---
TAKE IT FROM THE CAPTURE COURSE ALUMS:
"The Capture Course literally gave me the necessary confidence to be behind the camera, relieved any stress I had while shooting, and has given me what I need to have fun while documenting!"
-Morgan Pinch
"The Capture Course was the perfect jumpstart for someone that's never used a camera in manual before (that was me!). It was straightforward and simple so it was easy to follow along!"
-Sarah Gobble, Sarah Lotus Photos
"My husband and I absolutely loved The Capture Course! We found Lindsay's teaching style to be super accessible. We loved that we were able to take the tips, put them to use, and see results right away!"

-Myelle
---
The Capture Course is perfect for you if…
Manual shooting is a MYSTERY to you
You're afraid to shoot with a real camera, or feel like its a HASSLE!
You're ready to freeze moments in time that will do the memory justice
You want to stop TRYING SO HARD to take photos
You want to fill the walls in your home with sweet memories
You want to develop a skill that could make you some extra cash on the side! (more tips on this in the BONUS!)
Your camera is a TOOL, not a decoration.
It's for those moments like, Um woah, I can't even, is this MY real life?
I don't want you to miss out on getting the most of this crazy life we get to call OURS.
What can you expect from The Capture Course 2.0?
to learn how to use your camera in manual mode and use natural light
to watch and re-watch the videos at your own speed and in the comfort of your own living room or your favorite coffee shop (even squeeze it in during nap time!)
over an hour & a half of targeted instruction
BONUS: 4 week bootcamp!: you'll be added to a Capture Course 2.0 members only Facebook group. This group is for you to ask questions, because that's how you'll feel confident without having me there with you!
BONUS: Submit pictures for feedback and areas of improvement in 1) focus 2) camera settings 3) composition once you've completed the class to continue refining your photographic eye. Email [email protected].
BONUS: 15 "Look-Fors" to take you from total rookie to effortless pro!
BONUS (video): Understand + Nail Backlighting
BONUS (video): How to find + use natural reflectors for better light
BONUS: SHOOTING IN MANUAL Cheat Sheet
BONUS: How to make cash using your camera!
I want you to go from:
*heavy sigh* AND wait, can you do that again?
To
Click, click, BOOM. Memories captured for life.
Your family, your business, your dreams, your vacations--they're all worth it!
Can't wait to "see" you inside the course!
Frequently Asked Questions
When does the course start and finish?
The course starts once you purchase it and never ends! It is a completely self-paced online course - you decide when you start and when you finish. However, enrollment for the course is only offered at certain times of the year.
What kind of camera do I need for the course?
That's a good question! The information covered is specifically for Canon & Nikon DSLR cameras. If your camera has the capability to photograph in manual mode, this course is for you.
How long do I have access to the course?
How does lifetime access sound? After enrolling, you have unlimited access to this course for as long as you like - across any and all devices you own.
What if I have questions about the content in the course?
Great! If you purchase The Capture Course, you'll be added to a private TCC Facebook group where you'll be able to ask questions that will be answered via text or via scheduled FB lives by Lindsay
How can I contact you with questions about the course?
For correspondence regarding this course, please don't hesitate to email
[email protected]
.
I want to learn photography, but I don't know what camera to buy. What do you suggest?
This is a BEEFY question, so I'm going to help you out by steering you to a blog post I've written: http://bit.ly/2hS7Sqn
Can I gift The Capture Course to someone?
Absolutely! There are 2 options: 1) you can purchase it with THEIR email and YOUR card info. Just know that as soon as you purchase the course, their email will be notified. 2) If you want the course to be a surprise, purchase it with YOUR email and YOUR card, and then either forward the email when you're ready or give them a gift card + your email login so that they can change it once they are ready to begin the course. Email
[email protected]
, and I can send you the digital gift card that you can share with them! If you have any more questions about how to do this, please feel free to email me,
Your Instructor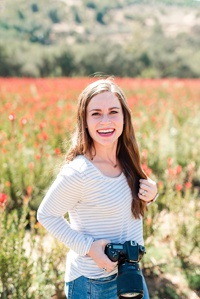 Hi! I'm Lindsay--wife to Jordan, mama to Luke and Aubrey. I'm a speech-pathologist, turned wedding photographer turned family and newborn photographer residing in Richardson where I often photograph in my home studio. I love nothing more than capturing and teaching others (especially parents) how to feel confident documenting the special, the impromptu and the precious moments that are oh-so-fleeting.