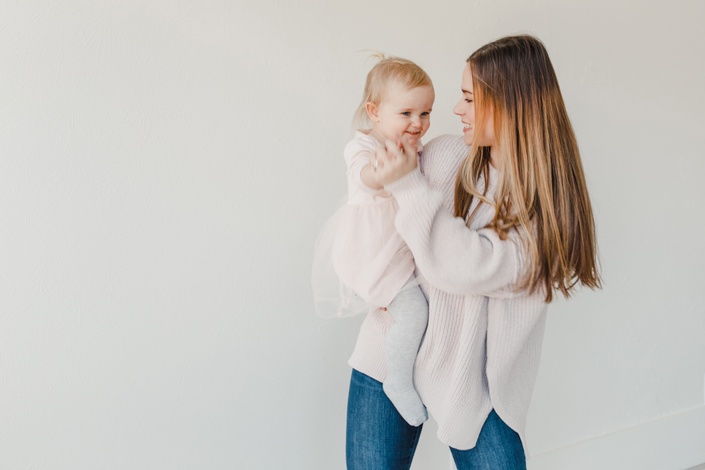 In-Person Photography Basics Workshop [In the LDP Studio]
for parents who want to walk away confident with their camera settings so that they can document life's happenings on the daily
More often than not, we think that digital cameras are the best way to perfectly freeze-frame those precious expressions and special occasions that slip away all too quickly. I mean, our babies--why don't they keep?!
Problem is: turns out using your camera in automatic mode doesn't keep you hanging on for long. And that exposure triangle is tricky. I mean, for rreeallll.
I wasn't a mom when I experienced this frustration and surprise that came along with all of the techy parts of my first Nikon D3100, but I remember the defeat. It's daunting to not know what you don't know. So asking questions is...hard.
I mean, where do you start?
But here's the good news: it doesn't have to be that complicated. You CAN understand the exposure triangle. You can feel confident knowing which buttons are most important on your camera. And you CAN shoot in manual mode--completely nailing those impromptu or perfectly planned moments.
I'm here to tell you what you DO and DO NOT need to know when it comes to feeling confident using your camera to take pretty stinkin' cute pictures of your kiddos. Because clearly--there are a lot of rabbit holes to get lost down.
But I won't take you there!
In my studio workshop, the most complicated factor is solved for you: the lighting. The natural light is constant, and the white walls and flooring allow for beautiful skin tones and simplicity when learning. It's the perfect way to learn and gain confidence shooting in manual mode before taking your knowledge elsewhere.
WHAT'S INCLUDED
*You will have access to the homework to complete before the workshop (come ready to be hands-on!)
*You get 1:1 time with myself and/or one of my associates, making sure your questions are answered in realtime
*You have the option to TAKE PICTURES OF YOUR OWN CHILD(REN) during the workshop!! (more info to be shared here!)
*YOU GET TO WALK AWAY WITH A BEAUTIFUL PHOTOGRAPH THAT YOU TOOK AND EDITED OF YOUR KIDDO. This is what gets my heart beating faster! THIS is priceless, you guys! If you walked away with this, imagine how PROUD you'd feel of yourself! Imagine being able to rent the LDP studio in the future and capture more milestones than you would typically book a photographer for--YOU! You, mama!

*You will have access to my studio Lightroom preset
*You will have the option to reserve a 1-hour studio rental anytime in 2022 for your own personal use
*You will receive a 50% code for my online Lightroom Editing Course which goes deeper into the abilities of LR
*You will have access to renting the LDP studio in the future at a discounted rate for your own personal [not professional] use (YES, I know--this is new!!!!!)
Course Curriculum
Before the Workshop
Available in days
days after you enroll
The format of the class is:
1. Pre-work to be completed prior to class
2. Brief overview of pre-work and time for questions pertaining to it
3. Begin practicing in studio!
4. Opportunity for children to come to be photographed in time slots
5. Opportunity to practice outside in more of an uncontrolled lighting situation
6. Uploading images and briefly editing them in Lightroom using the preset you download prior to class
7. Select a 1-hour time slot to return to the studio at a later date to practice more (and bring those loved ones!!)
Frequently Asked Questions
When does the course start and finish?
This course starts January 1 for the in-home portion (to be completed anytime before 1-22-21), and the in-person, hands-on part will take place on January 21 in the LDP studio from 9-12 with time slots for moms to coordinate bringing their kiddos in to practice on.
How long do I have access to the course?
How does lifetime access sound? After enrolling, you have unlimited access to this course for as long as you like - across any and all devices you own.
How many spots are in this class?
I want to keep the number small so that myself and associate Claire can answer questions 1:1 as often as possible, because this is where the concepts really click. With that being said, we'll limit spots to 8-10 people.
Do I need to have a camera?
The short answer is, YES. You can borrow, rent or buy. I use Nikon, but I am familiar with Sony and Canon, as well. It'd be helpful for us to know which specific camera body you're coming with, so that we can make sure we are able to help you during class.
Will we be able to photograph our own kids in your studio?
Yes! THIS is what I'm getting really excited about! I LOVE the idea of teaching you how to shoot in my studio, because the lighting is so controlled that it's the perfect setting for you to really be able to practice on your most favorite subjects: your kiddos! -A portion of the class allows somebody to bring your children for you to practice on -And/or you're welcome back anytime in 2022 for a 1-hour studio rental included in your class ticket
Will we have access to any other lenses?
Yes, if you shoot with Nikon. If you use Sony or Canon, I can't promise you that. Regardless, you'll be able to look through one of my cameras to get a feel for the difference in lenses and their focal lengths.
Does this course include information on how to use Lightroom?
Yes and no. You'll receive a discount code to my Lightroom Editing Course when you enroll. I won't go as in-depth during this in-person course as I do in my online course, but what I WILL do is 1) teach you how to upload your images into Lightroom 2) know where these images are stored (external hard drive, your desktop, etc.) 3) how to use my basic studio preset & where basic tools are in LR 4) how to export images in Lightroom
Is this class for me if I already know how to shoot in manual/have already taken your online course?
This course is more geared for parents who don't feel confident choosing their camera settings when they really want to capture a sweet moment of their loved one. The studio is the perfect space to learn and feel confident manipulating your shutter speed, ISO and aperture so that you can leave with a better understanding when you're in more complicated situations. The light is beautiful, mostly predictable and simple. The benefit for somebody who already knows how to shoot in manual mode is the access to the studio, 1:1 practicing/questions while shooting and tips on how to pose children.
Will I need to purchase anything else for this?
You'll need a camera and a lens (preferably a fixed 35mm or 50mm), a memory card and a laptop w/ charger. It's optional (and preferred) to bring an external hard drive and card reader. You will need to download the free trial of Lightroom, or you will need to pay a small fee monthly for it.
Will there be plenty of time for practicing?
YES! Yes! This is why I am asking everyone to watch specific modules before arriving. That way, if there are any questions that have come up from watching, they can be addressed right off the bat and more efficiently. This means that we'll be practicing and shooting the majority of our time together. I want it to be more hands-on than lecturing--that will be on your own time. The best part? You have the option to practice on your own little one during our workshop!!
Your Instructor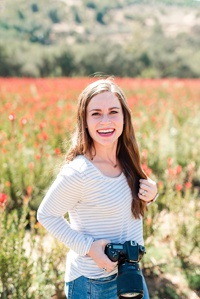 Hi! I'm Lindsay--wife to Jordan, mama to Luke and Aubrey. I'm a speech-pathologist, turned wedding photographer turned family and newborn photographer residing in Richardson where I often photograph in my home studio. I love nothing more than capturing and teaching others (especially parents) how to feel confident documenting the special, the impromptu and the precious moments that are oh-so-fleeting.
I truly believe that if you complete this in-person workshop, you will walk away not only with confidence but with this infectious bug of wanting more--I remember it like it was yesterday! I couldn't STOP practicing once I got a taste of the good stuff!!
-Imagine having the confidence to know whether to bump your ISO up or down
-Imagine understanding which setting is most important when capturing the movement of our crazy active toddlers (psst! shutter speed!!)
-Imagine understanding just HOW that pretty blurred background happens when your subjects is crystal clear and beautiful (ahem...aperture!!!).
-Imagine having access to somebody to ask your questions in real time as they come up.
-Imagine leaving the workshop with one of your most favorite photos of your child--that YOU took!
-Imagine being able to come back to the LDP studio, feeling confident with your camera, and capturing your own milestones--renting a time whenever you want.

This could seriously be you!
Because, I promise you, you're not leaving my studio if I don't truly believe the concepts have CLICKED for you!
I have taught in-person workshops in the past, but I've never had a location like my studio to take the unpredictability of lighting out of the equation. This is a game-changer, y'all.

The studio gives me full confidence that anyone can accomplish the goal of shooting in manual if they make the simple decision to enroll in this class.
Don't wait--spots are limited! And those babies still aren't keeping!